Everybody's Rehab Center of Excellence
Join our center for your rehab journey.  
Our Mission Is to Provide a Professional Approach to physical rehabilitation.
The rehabilitation centre at Muelmed is committed to enabling all who pass through our doors to realise and achieve their full potential through a comprehensive and integrated rehabilitation service. We offer interdisciplinary expertise in acute functional rehabilitation, and have dedicated teams for our spinal, neuro, paediatric and outpatient units.
VitalStim® Therapy
This therapy are conducted by our speech therapists for patients with swallowing difficulties.
Spasticity clinic
Assessments are conducted by a specialised team for patients presenting with spasticity. Intervention includes medical treatment and therapy.
Unweighted treadmill
This device is used as a stepping stone for patients in need of gait and walking rehabilitation, but not yet able to weight bear on their lower limbs.
Vocational Rehabilitation
Comprehensive assessments are conducted with the patient to determine return to work options as well as liaison with the employer. Rehabilitation focussed on adaptive skills required for return to work.
SIT Lab
SIT Lab technology is used to assess best seating options for our patients requiring a wheelchair and cushioning to prevent postural and pressure complications.
Return to driving rehabilitation
Patients are assessed by the therapy team, where applicable they are referred to a service provider specialising in driving rehab.
Hand clinic
Assessments by a specialised team for functional hand function to improve independence. This service includes possible tendon transfers.
LSVT therapy
This therapy are conducted by therapists specialising in treatment programs for Parkinsons as well as other neurological conditions that will benefit from this intervention.
Click on the PLUS to read more.
DOCTORS
The medical service in the rehabilitation unit at Muelmed is provided by Dr Terry & Associates Inc. The doctors take responsibility for the patients' medical care and treatment. They give special attention to bladder and bowel problems, wounds and spasticity.
Specialised services offered by the medical team includes a hand clinic that focuses on patients with quadriplegia. Patients are evaluated for a potential tendon or nerve transfer that could maximise arm function. The team also offers a spasticity clinic. A management plan could include botulin injections, an intra thecal pump, medication or to be referred for outpatient therapy, a home programme or splinting by the therapy team.
THERAPY PRACTICE
Rita Henn and Partners Inc. is a group therapy practice offering multidisciplinary physical rehabilitation. Our team is made up of Occupational Therapists, Physiotherapists and Speech Therapists.
We tailor-make intensive rehabilitation programmes, giving each individual the opportunity to achieve maximum independence following a traumatic event in their lives. We embrace the philosophy of outcome-based rehabilitation.
Rita Henn and Partners Inc. provides a holistic rehabilitation service, where individual treatment sessions are complemented by group therapies, community outings and visits to our patients' homes where possible, as part of our comprehensive planning and treatment programmes. Once the inpatient rehabilitation programme is complete, we also offer comprehensive outpatient services with the aim of fully re-integrating our patients into their communities, work, school and family lives.
PSYCHOLOGY
Charis Psychological Services takes care of our patients emotional needs at the rehabilitation unit. We offer psychological services in conjunction with the physical rehab process. We believe that emotional recovery and wellbeing plays an important part in the road to holistic recovery. We offer emotional support to patients, including trauma debriefing, psychotherapy, adjustment support, group support sessions, sexual rehabilitation, and preparation for life after discharge from rehab. The psychology programme at the rehab unit at Muelmed is tailored to meet the individual needs of patient.
PEER SUPPORT
It is of our view that support should not stop once patients leave the hospital, rather it should be provided throughout the patients' reintegration back into their home life to ensure a smooth rehabilitation process. The rehabilitation centre at Muelmed train peer supporters to provide such support to patients whilst they are in hospital and after they have been discharged.
This initiative is supported and funded by Bold Moves – Association Incorporated under Section 21.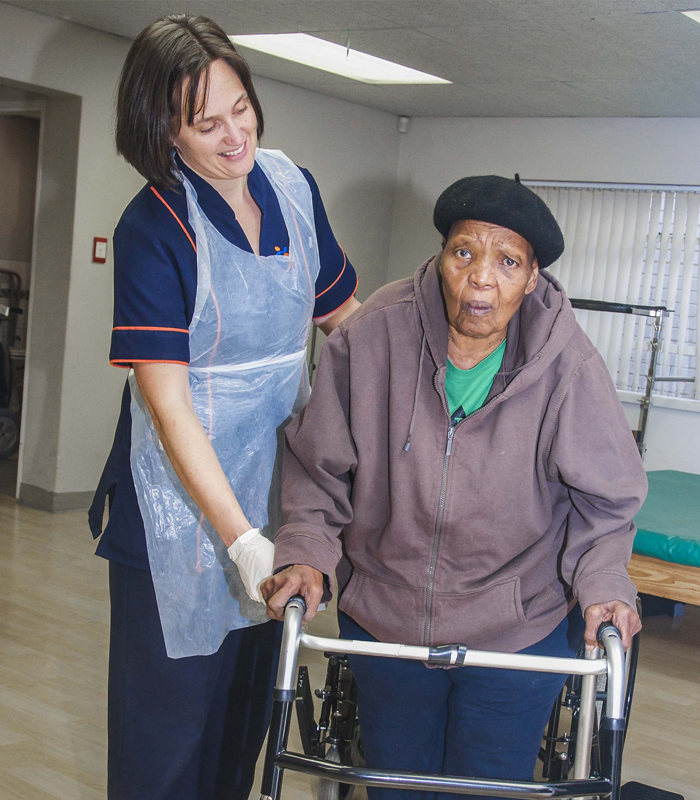 SOCIAL WORK
Marelise de Wet & Associates provides the social work service at the unit. This service plays an important role in the patient's process of re-entering the broader community after a life changing experience. They offer individual counselling, group work sessions and assists the patient's family to come to terms with the condition. Paediatric patients receive play therapy. The social workers ensure that the patient is discharged to a safe and supportive environment.
DIETICIAN
The role we play in the rehabilitation unit is to ensure that the nutritional requirements of our patients are met to support their health anf over-all wllbeing. Not only do we aim nutrition support at recovery, but also to prevent weight load, boost immune function and provide sufficient energy that our pasients need to recover.
Better Health Care is Our Mission
Mediclinic Muelmed 577 Pretorius Street Arcadia, Pretoria